People ask me how I can write eight to ten novels a year while working a full-time job and raising a family. The answer is simple. I don't do much else.
This is my November spreadsheet. I track average daily words (3,397), average daily writing time (2.89 hours), fitness, and a bunch of 'business of being a writer' stuff.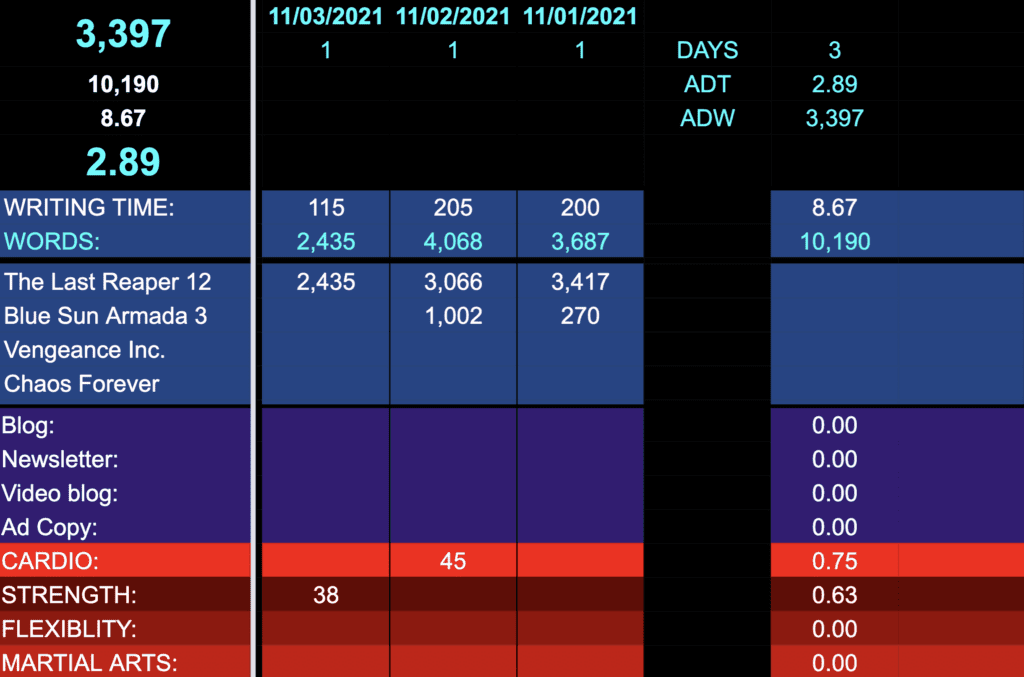 Do you see where I place 99 percent of my effort?
Maybe I could take my dream career to the next level by getting the other stuff done, but having a steady job also has value. And none of it matters if the books don't get written. Thankfully, I have JN Chaney and the people at Variant to help me with all the stuff I suck at (or don't have time for). Steve Beaulieu and Rhett C. Bruno at Aethon also do a great job, of course. I enjoyed publishing my Brothers in Arms Trilogy with them.
But everyone knows, that for me, The Last Reaper has been my greatest success… because a bunch of fantastic readers got behind Halek Cain, X-37, and the rest of his crew to watch me kick the crap out of them book after book.
I haven't been broadcasting my daily gratitudes this month, but I am thankful every day and pray I can keep doing what I love.
Do some hard shit today. Live your dream.
---
Books You Might Like